Taiyuan Masterplanning / 太原环投天丽景观规划
We were tasked to deliver a masterplan for a residential development in Taiyuan, Shanxi Province in China. Due to ecological devastation from coal mining, there are intensive efforts to restore the greenery in the region, whilst creating sustainable economic communities in the outskirts of the city. 
我们的任务是为一个位于山西太原的住宅发展项目提供一套总体规划。由于当地挖掘煤矿造成的生态破坏,这次任务的重点是尽可能恢复当地的绿化,同时在郊区创造可持续的经济共同体。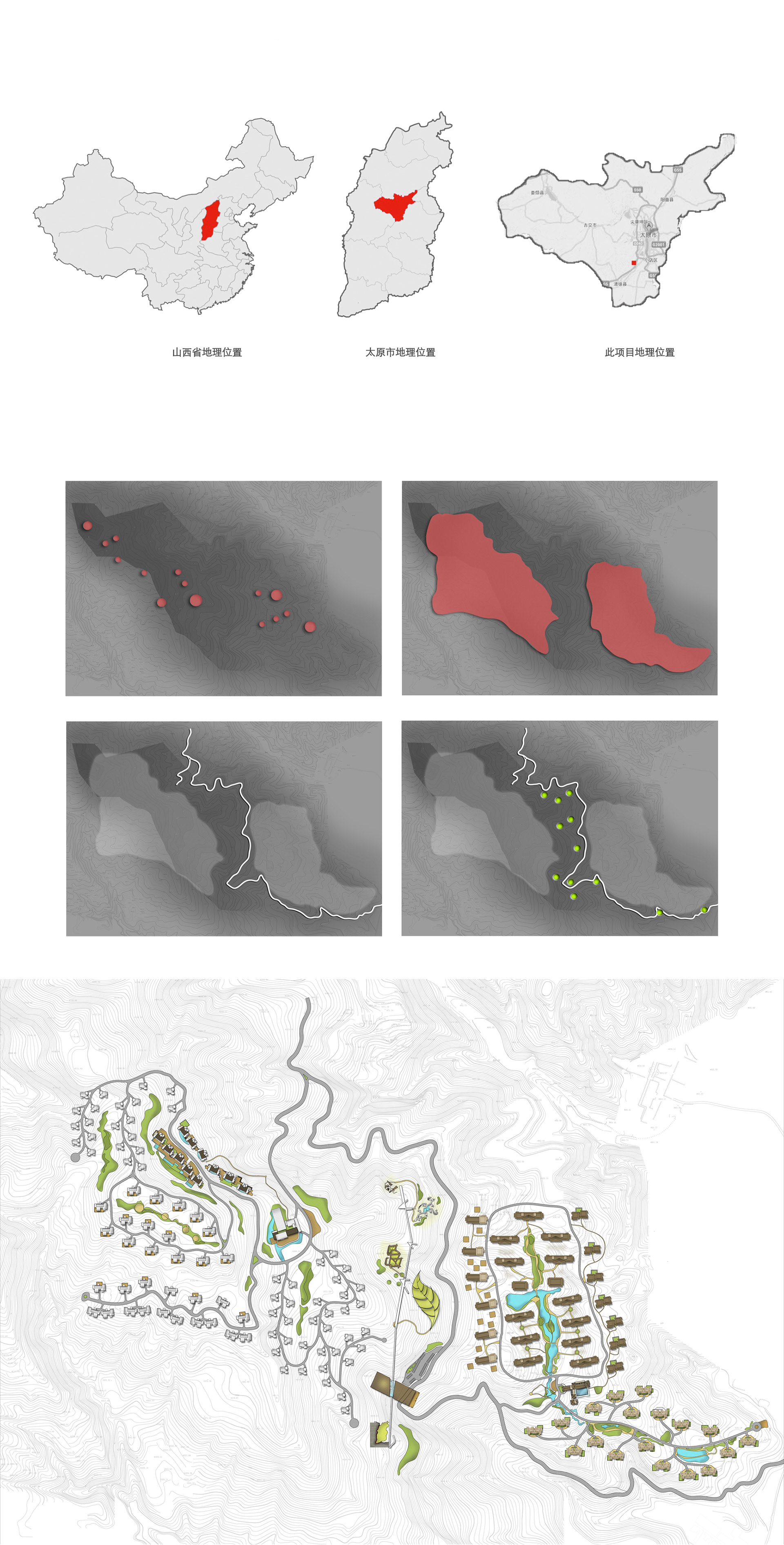 The site is a mountainous one, our road cuts across and provide access to two different plots, one at a lower elevation (right) with a higher plot ratio comprising of town houses and low rise apartment blocks, and at a higher elevation (left) with lower plot ratio of villas and detached houses.
项目的地形是一片群山,我们的高空栈道分隔并串联着两个不同的主题区域,在右侧较低海拔的区域包含了低层公寓楼和高容积率联排别墅两种形态的建筑;在左侧的高海拔区域则是低容积率的别墅和独立洋房。
The middle of the area is where the terrain is most steep, which we designated as a key landscaping belt. Tree top walkways connect 5 landscape highlights and a clubhouse.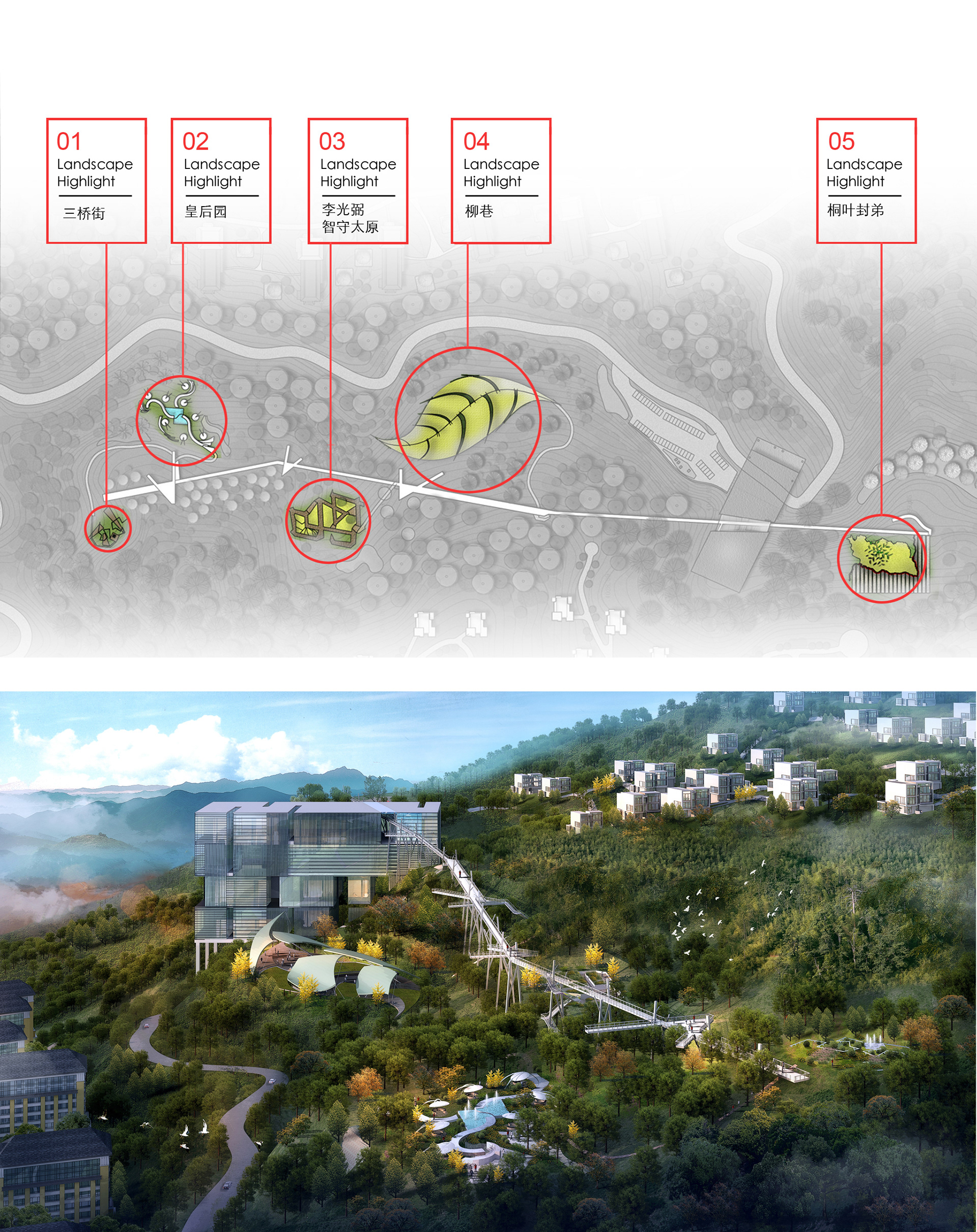 The 5 landscaping highlights are civic spaces inspired by local culture and history. Each is drawn from a different time period in the city's 5000 years of rich and colorful heritage.   
这5个亮点景观灵感源于当地文化和历史。形成一幅展示太原这个城市在五千年历史长河中丰富多彩的文化遗产画卷。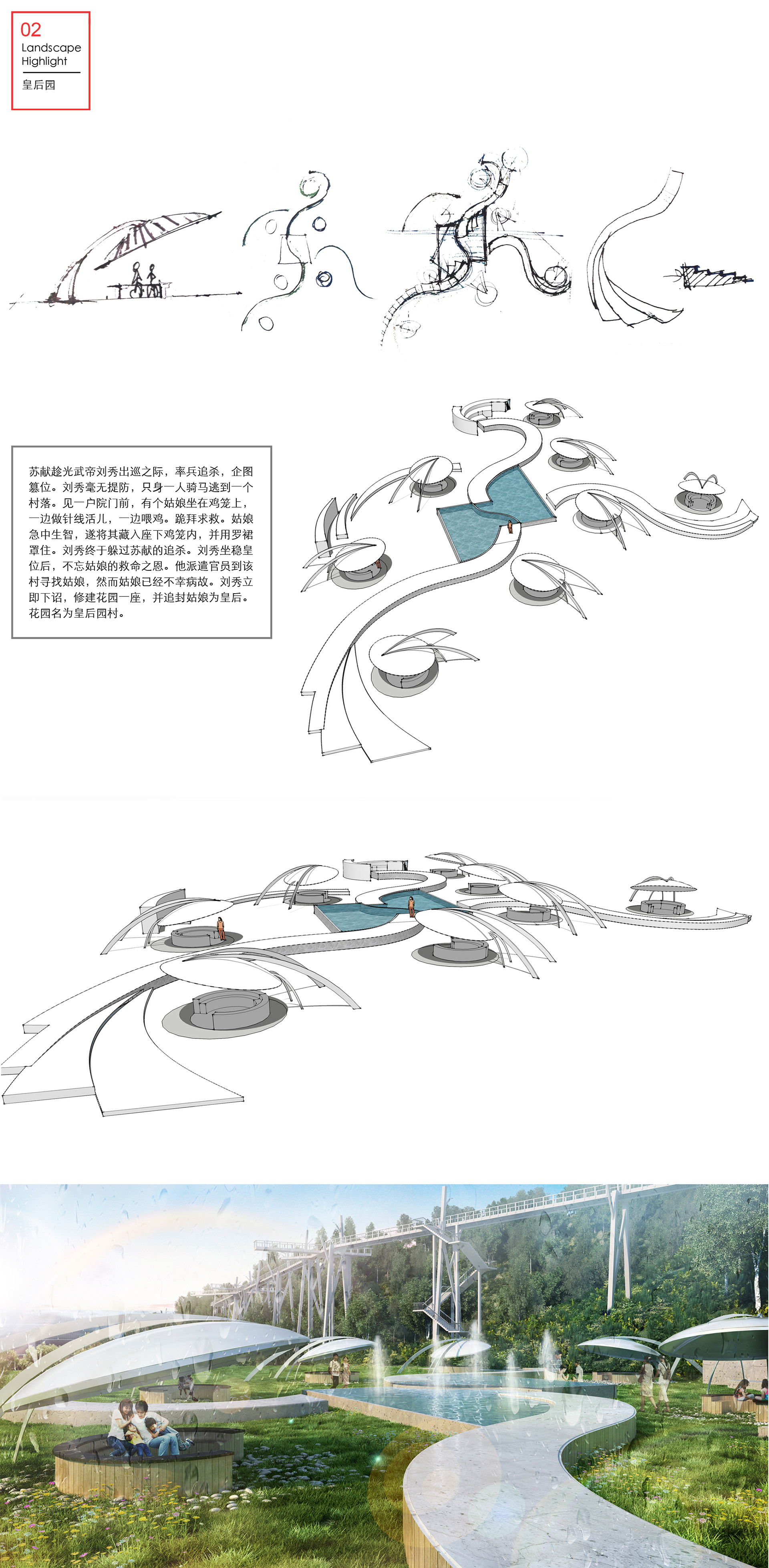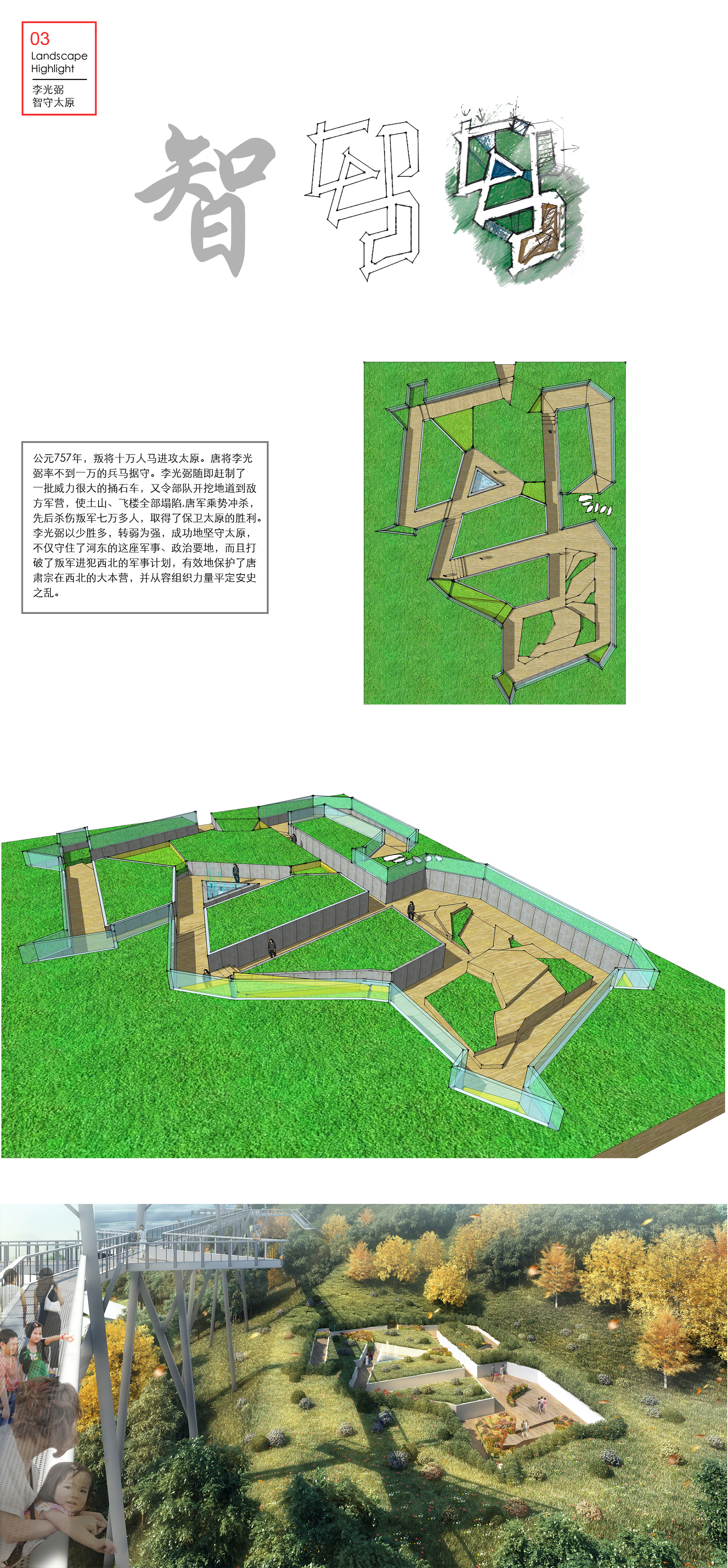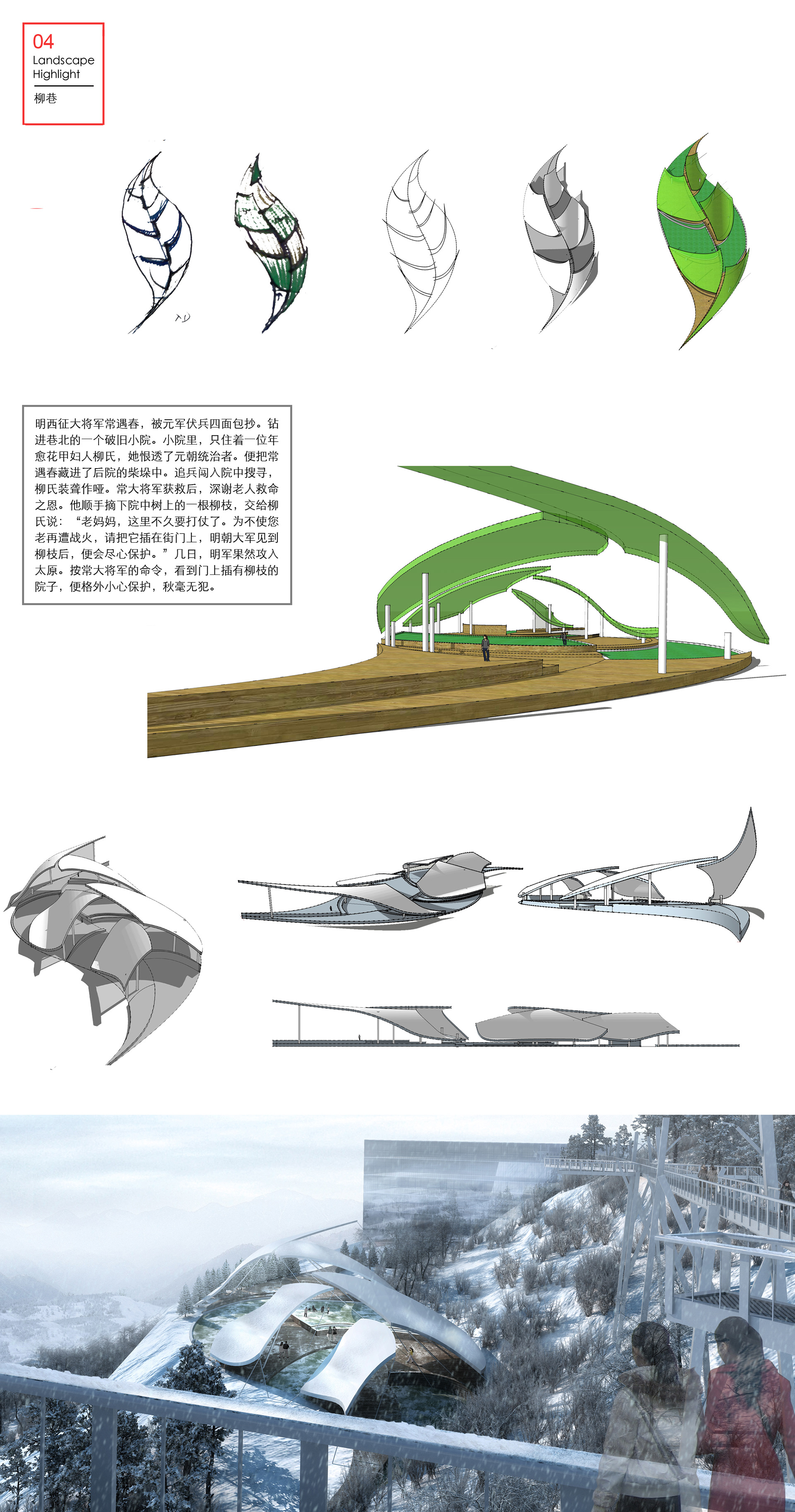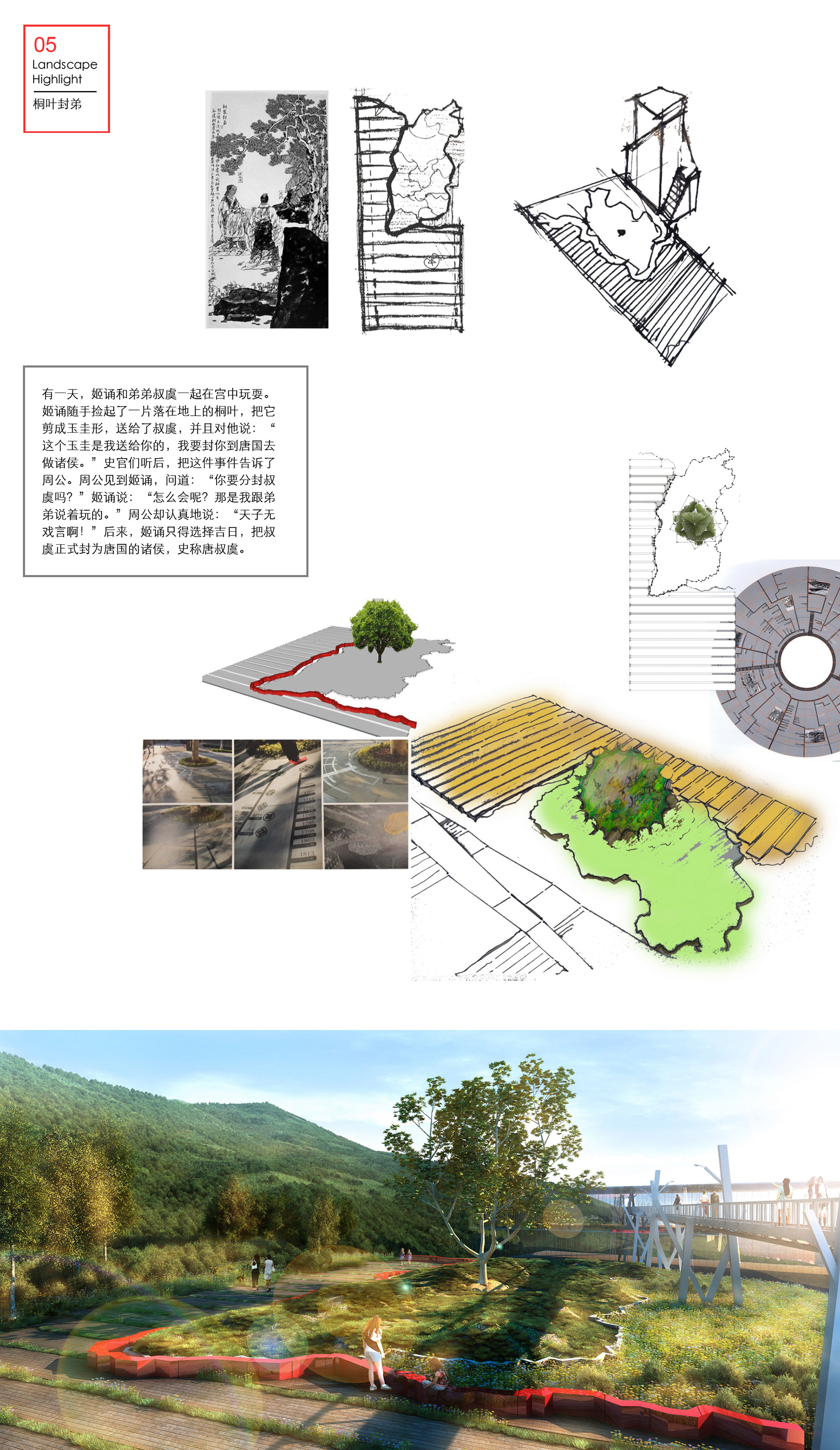 The tree top walk that connects the highlights is on a constant, facilitating access for the young and old. The undulating terrain beneath gives the residents an opportunity to observe the crown ecology of different plant species, giving a variety to the planting strategy.
高空栈道串联着所有景观点,便于老人和孩子进行游览。栈道下方起伏的地形也创造了一个让人们在同异水平面观察不同植物物种的生态可能,同时提供了种植多样性植物的可能。
It is also designed to give the best vantage point of the city, as well as the highlights below, as influenced by the topography it is traversing.
同时,我们也希望可以给予城市一个绝佳的位置来欣赏这座城市及这些亮点景观。所以我们通过利用这里特别的视角和高低起伏的地势,设计了这个高空栈道。